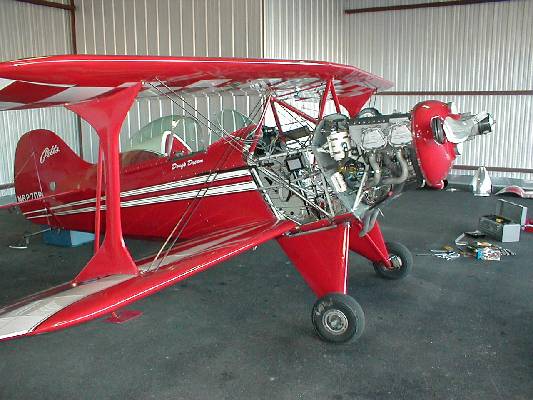 On October 31 I flew my Pitts for the last time in 2003. Like any good relationship, she takes work, and sometimes things fall apart. This one's worth putting back together, not least because of the large initial investment. Talk about a commitment!
We (Me and the Pitts) practiced the infamous 2004 Sportsman sequence complete with N. This is no problem for us, but a lot of folks on the aerobatics mailing list are whining that it's too tough for their planes. I say stop whining, start burning some fuel, and be sure to submit a few knowns for next year. They'll have to grin and bear it this year or quit. But I digress.
I'd noticed the fuel smell in the cockpit during preflight, and there was a very slow drip-- just a drop every minute or so -- from the place where the main fuel tank runs into the header tank. We flew anyway, but I had a feeling it would be our last for a while.
On returning, the A&P on the field had a look, gave me an optomistic assesment that the leak might be through the threads of the fitting, and sent me to work promising to have a closer look.
The report I got at work on the phone wasn't good. The leak was through the weld. It had happened before and been repaired with epoxy of all things. That doesn't fly with us. The tank would have to come out and be welded over. They'd empty the fuel and put the plane back in my hangar. I could take the plane apart and remove the tank.
A week later the plane looks like this, and here's an album of photos. It's been a great experience getting familiar with the plane, taking it apart. We've found other things to do as well. There was a leaking brake cylinder, hoses to replace. The oil pressure gauge never read the correct pressure so we sent it off for an overhaul. The elevator trim tab was cracked. Finally, there was a crack in the fitting that attaches the right lower wing to the fuselage. We're fixing all of this, and soon the plane will be back in one piece, flying again.
If this was contest season I'd be out of my mind. As it's winter, I'm just a little antsy. Need to get out and practice that sportsman sequence. The first contest will come at the end of April. I have lots of warm flying clothes. I want to practice. I want to be ready.